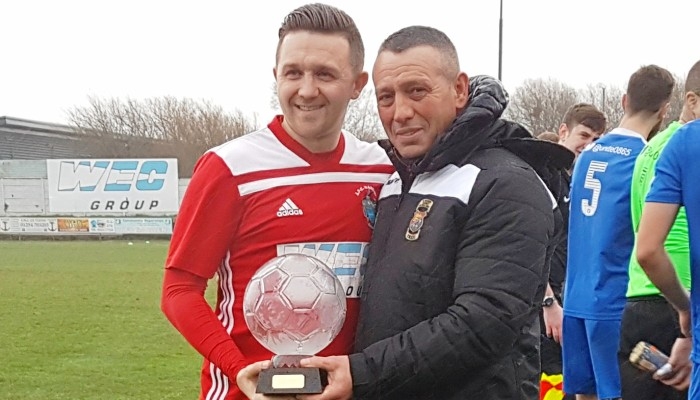 300 up for Karl
Tue 29th January 2019 | AFC Darwen
By Vince Sherry
Karl Turner made his 300th competitive appearance for AFC Darwen in the game against St Helens Town last Saturday.
Both sides and the officials formed a guard of honour as Karl entered the field, and a presentation was made to him by Kenny Langford, AFC Darwen's Director of Football.
Speaking after the game, Karl said: "Thanks to everyone at the club for what they have done. I wasn't expecting a guard of honour, but thanks to both sides and the officials for that.
"It is a big achievement, especially at this level. Not many people play 300 games for one club nowadays, due to players moving around the leagues more.
"It was good to play 90 minutes, which is more of a rarity for me nowadays.
"Also, it was an honour to be Captain for the day, score the last goal of the game, and be named man of the match by our opponents - although perhaps Elliot Pond should have had it, but I'll take it!
"It all capped a perfect day".
Karl is pictured below with AFC Darwen Director of Football Kenny Langford.