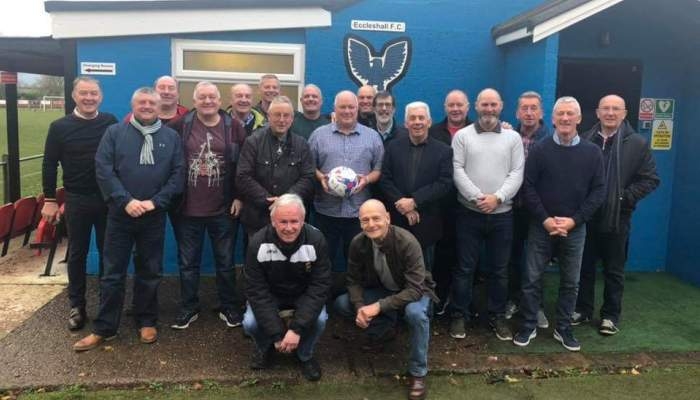 Old boys reunion at Eccleshall
Tue 11th December 2018 | Eccleshall
By Jim Tunney
Eccleshall's recent match against Maine Road saw a reunion at Pershall Park of past players, a number of which were members of the 1989/90 Staffordshire County League championship winning side.
Former manager Ken Roberts organised the get together as the group were match sponsors for the day. Memories of past games were re-lived as the players got together before and after the match, which the Eagles won 4-2.
Ken said: "We had a great team spirit and togetherness back then and the players by and large tended to stay with the club for a number of seasons and have continued to stay in touch. I think that is reflected in how many have turned up today".
Former player Ian Young added: "The ground has changed a lot since our playing days. I would have loved the chance to play on the pitch as it is now and under the floodlights".
Club secretary Jim Tunney, who was the physio for the 89/90 team, said: "It was great to see everyone again and we were, of course, grateful for their match day sponsorship.
"They were great days back then and these players in their heyday would more than grace the North West Counties League now. The players actually sponsored a game last season and, as they enjoyed meeting up at Pershall Park so much, it prompted them to do it again this season.
"We hope to see them in the future and they know they will always be made welcome at Eccleshall".
Photo attached shows the former players before the game. Ken Roberts is holding the match ball.