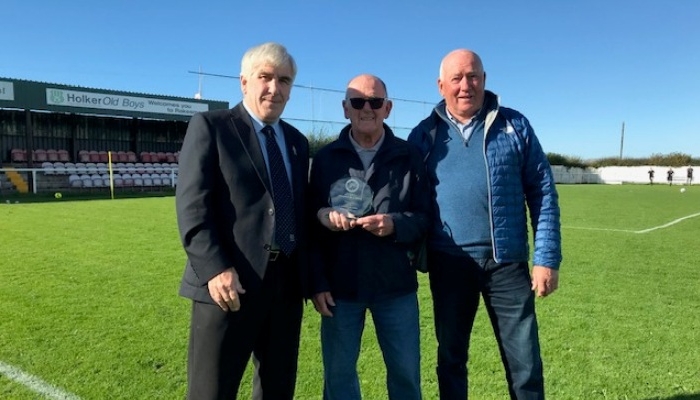 Holker Old Boys celebrate 1000 games
Wed 10th October 2018 | Holker Old Boys
By Ian Templeman
A special presentation was made to Holker Old Boys on Saturday, to commemorate the club's achievement in playing 1000 games in our League.
The Old Boys recently became the 18th club in League history to play 1000 games, achieving the feat on the 15th September when they hosted Longridge Town.
Before Saturday's game with Atherton LR, long serving club members John Maxfield and Alan Wilson accepted a trophy on behalf of the club to commemorate the milestone.
Club Chairman Maurice Watkin explained that it was fitting that John and Alan were presented with the trophy.
"We've had some nice compliments from teams all around the area for reaching 1000 games in the North West Counties, and when it was first mentioned about presenting the award, I was asked if I would accept it on behalf of the club.
"I said no, I don't want to do that, I've got two gentlemen here that should be accepting it.
"John is the longest serving member at the club, and has been involved with the club for over 50 years, and Alan only slightly less, so they were the right people to accept it".
As events turned out, Saturday turned out to be a good day for the club, with the award presentation being followed by the team's first win of the season.
"It was nice that the award was presented on Saturday", said Maurice.
"We've had a change of management after a disastrous start to the season.
"Kevin Watkin has take over as manager, although he is still registered as a player, and three former players are helping him, Paul Southward, Glyn Dixon and Sean Mellen.
"We got a good win, the new management team got off to a winning start and we got presented with the award, so it was a good day all round.
"We can only hope it's the start of better things, and the only way is up from where we were at the bottom of the league".
League Vice-Chairman Geoff Wilkinson is pictured presenting the award to John Maxfield and Alan Wilson.